Wedding Planning
16 Aug 2017
Step 1: wedding planning Budget
One of the first things to think about when wedding planning is how much you can afford to spend. Whether your budget is £1000 or £500,000, you can be sure that there are wedding venues and services out there that will suit your needs — and are within budget. Some couples choose to pay for their wedding themselves, where as others share the cost with their parents, or the parents are happy to fund the whole day themselves.
Step 2: Your Perfect Wedding Venue
We are working here on the principal that you have a rough wedding date in mind. More often than not, unless you are planning to an exact date years in advance, the availability and choice of venue will drive the actual date of the wedding. Choosing the right wedding venue will most certainly take time.
If you are lucky enough to have your own land then a marquee wedding is always amazing as you can make your own one off venue with no date restrictions.
If you choose to get married in a church or require a local registrar then be sure to seek the advice of your local Register Office. When both the ceremony and wedding venue arrangements have been chosen, your whole day should fall into place. Something else important to remember will be your first night together as a married couple. Not all reception venues have hotel facilities, so planning your first night together should be something too consider when viewing wedding venues.
Step 3: Buy Wedding Insurance
The average UK wedding costs between £15,000 and £20,000. Just think about the cost of wedding rings, a wedding dress, marquees, generators, toilets, catering and the many other wedding essentials and you will soon see how much they add up to. While it is not very romantic to think about what might go wrong with your wedding, it is best to be prepared. Purchasing wedding insurance from the moment you start spending money on your wedding could really help with peace of mind for both your wedding spend, and honeymoon spend alike.
Step 4: Select Your Wedding Rings
Now you have set a date and purchased wedding insurance you can start to buy all of the accessories that will bring your big day together — including the wedding rings that you'll both wear forever. Some say that the tradition of wedding rings comes from the circular shape symbolising an endless stream of love. Others say the tradition stems from the fact that a vein runs directly from your wedding finger to the heart, connecting the two constantly. Whatever the truth, when selecting your ring you are not just choosing a beautiful piece of jewellery that will look lovely on your finger, you are also taking another step towards bonding yourselves together forever.
Step 5: Plan Your Wedding Guest List
Where do you start with your guest list? The truth is you have probably already thought about it. When you were young did you dream of the fairytale wedding or was yours a smaller, more intimate affair? When you planned your wedding budget earlier in step 1 presumably you have agreed on the amount you will be spending on your reception venue. And, as you have selected your venue it's safe to assume that you have a good idea of the size of your wedding party. So now start typing out names — and our advice is really quite simple. Start with the key players (family members, best man or men, bridesmaids, etc) and then work outwards. Imagine you are designing your 'family and friends tree'. Add your names first, and then work downwards in rows starting with the most important people in your life, working to the end until you have encompassed everyone you can think of. At this point, do not worry about the actual number of people you have down but think more about not overlooking anyone. Once you are convinced you have everyone included, you can start eliminating people off the list or at least categorising people into daytime and evening guests. Be prepared to give and take a little when discussing people with your partner and try to be as accommodating as possible. That being said, remember that it is your day and if there is somebody there that will really make your day, stand firm!
Step 6: Choosing The Dress
Buying a wedding dress will be one of the most fun and exciting parts of the whole wedding preparation process. No matter what shape or size you are, there are a multitude of dresses to be found not to mention all the accessories you'll need to make yourself look the part. Groomswear, ushers, bridesmaids, flower girls, pageboys and every other member of the wedding party will also need to be considered, so be prepared to spend some time making sure the complete wedding party is coordinated.
Step 7: Order Wedding Stationery
Whilst you've probably already told everyone you know about your up and coming marriage, now is the time to make it official. Your wedding invitations should be sent out approximately 6 months in advance of your big day, but it's never too early to choose a design or style of stationery that you love. In order to give your guests as much notice as possible, why not send out 'save the date' cards to announce your wedding and ensure that your guests keep that date free, with an 'official invitation to follow' in the near future. Think about purchasing your wedding stationery order from a single supplier in order to save time, and consider ordering personalised wedding stationery . The stationery order can include everything from wedding place cards to menus, order of service cards and thank you cards, all created in the same design to match your wedding theme.
Step 8: The Honeymoon
Having dealt with various wedding suppliers, bridesmaid issues, months of stress and trying to make the biggest day of your life perfect you will need a holiday. Your honeymoon is normally your first few weeks alone with your new partner, so it should be truly exciting. If you've not built your honeymoon spend into your main wedding budget then decide between you both how much money you can allocate for your honeymoon, and where you'd like to go. A honeymoon is generally taken with in the first few days of being married, but if you want to wait and pro-long your wedding celebration or save extra money then there's no harm in that. Changing your name on the passport is best left until after you return from the holiday, but if you don't own a passport with a least 6 months validity left on it, it would be advisable to get one sooner rather than later. Depending on where you travel to you may need to check whether or not you require a visa.
Step 9: Book the wedding contractors
Through out your wedding day you will experience so many wonderful moments that you will want to remember forever. By booking a good wedding photographer/videographer you'll be able to look over your favourite moments time and time again and they will be a treasure to keep forever.
Your Marquee, generators, toilets, band and wedding car will also need to be booked at this stage.
Finding  reliable and good  companies now will make your wedding run very smoothley with no big issues, power is always a last minute or forgotten entity but without power nothing will work so always worth giving Chew Valley Generators a call to discuss your needs 01761 221000.
Step 10: Your Wedding Gift List
Whilst you are getting married for love, one nice 'bonus' is all those lovely presents you are going to receive. And even better, you get to pick them all out yourself! Most girls love shopping so going in to a store or online and choosing anything you want for your guest list will be amazing, and is also a smart idea because it avoids you being given 3 toasters or 9 blenders. A wedding gift list is also good for couples who do already live together and have everything. You can choose unusual presents that you might not purchase yourself or simply select gifts that will resemble your day or the love you have for each other. Wedding gift lists can be arranged at most leading department stores.
Step 11: Create a Table Plan
If you've made use of the 'save the date' cards, most of your guests should be well aware when your wedding is and will be eagerly anticipating the invitation landing on their doormat. You should send out your invites a minimum of 8 weeks before your wedding however sooner is often better. If you are inviting a lot of overseas guests it would be advisable to send them early in order for replies to come back to you. There is nothing more frustrating than not knowing how many people to cater for or where to seat who if you are unsure of your final numbers. One way around this is to have a 'reserve list' of people that you would like to invite if numbers permit. Your table plan will need to be arranged as soon as you have all of your RSVPs back from the guests you invited.
Step 12: Arrange Stag and Hen Nights
Also known as 'the last night of freedom' the stag or hen party will be a night or weekend celebration with your best friends to celebrate your future wedding. Whether your party be at home, out on the town or abroad, your stag or hen party will be all about you, and will be a celebration to remember forever. Consider adding your stag and hen parties into your initial wedding budget so that you know how much money you have to organise your event with, avoiding the worry of spending lots of unexpected money as the days to your wedding draw closer.
Step 13: The Finishing Touches
Every couple's wedding is unique to them so it is difficult to put into words exactly what final touches you will need to take care of. Things to think about are your wedding breakfast menu, order of service, rehearsals, speeches, readings, poems, thank you gifts, the first dance, wedding music, timings, transport, children, favours, first night accommodation, return of hired outfits, thank you cards, etc.
Our 13 step guide cannot possibly cover everything for everyone but we do hope to offer most people a good idea of what may be involved in their big day.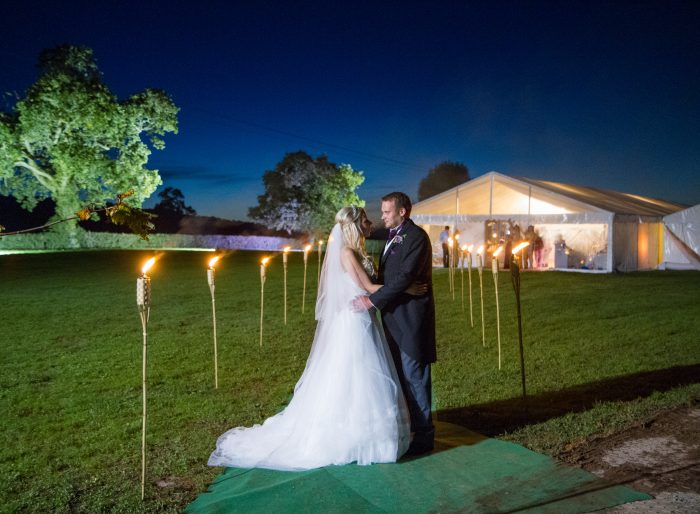 Category: Latest News