Wedding Hire
26 Nov 2018
Wedding Hire Generators
We have been asked to do a quick guide to wedding hire and what you need to know about generators.
CVG has now been part of over 3000 weddings in the south of England and are very proud of this fact.
We would like to think we have been there, seen it and done it all from the DIY to the £500,000 jobs and all are special as it's your big day that will never be forgotten.
First things first.
So the first thing you need to decide is what you planning and with how many people. If its a marquee in the middle of a field then 90% of the time you will need a generator.
With weddings, the catering is a huge part of the power load needed as most marquee companies are moving to LED lights reducing power consumption.
So firstly check to see what power requirements your catering company will need, along with your band or DJ, your marquee firm and any other people like the bar or photo booth.
Step two
Once you have an idea of what size you need, just give us a call or email and we will try and give you all the information you may need, from how to book and whats included in our price as we prefer to supply the customer with everything they may need not adding extras at the last minute.
All our wedding or event generators as standard come fitted to a road tow trailer with 20m of cable from the generator to the distribution board, earth rod and wheel or hitch lock included in your price.
Delivery and logistics
Once you have booked with us, a week before the wedding we will be in touch to see what day you would like to take delivery. Normally its from Wednesday to Friday, working with and around any other companies that will be on site.
On the decided day one of our drivers will arrive and introduce themselves, normally followed by a quick walk to where you are thinking of placing the generator to make sure its in the best possible spot to reduce noise while being out of sight.
Once the generator is placed, we will run the cable from the generator to the distro board and plugging it all together before testing the machine and fitting a wheel or hitch clamp that is also included in our price.
Before we leave site you will be shown how to start and stop the generator, along with any other information you may need, like where the fuel gauge is!
All done
On the collection day we don't need anyone on site, as long as we can access the site and its not locked we will go in and unplug everything, wrap up our equipment and leave site.
We hope this short guide may help some of you on planning your wedding and we do have a few other guides on our news page that may be of use.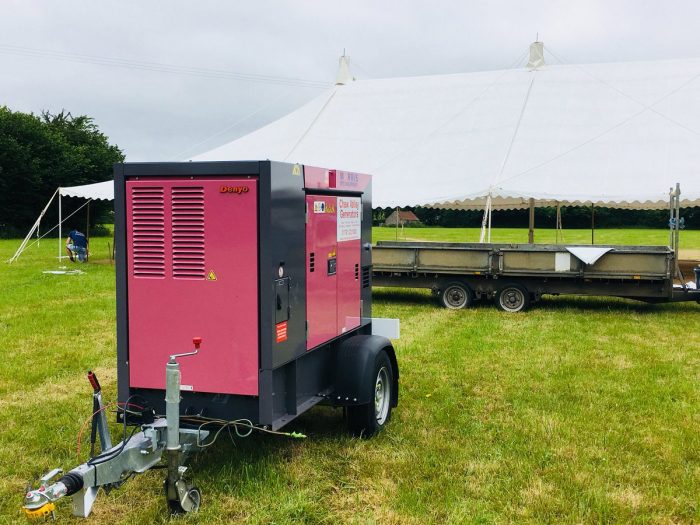 Category: Uncategorised